Cameron was kind, compassionate and had a way of making everyone around him feel appreciated. He was also spontaneous, fearless and full of energy. Always on a quest for adventure, Cameron had a passion for things that move fast — like riding snowmobiles and motocross bikes, and racing remote control cars. Sadly, when Cameron was just 22 years old, his mom, Sarah, received a phone call with news no mother wants to hear: Cameron had been in a terrible car crash.
Cameron's gift of life
Sarah felt like she was trapped in a bad dream. Arriving at the hospital, she learned that Cameron's accident had been fatal. Devastated by the news and trying to grasp that the bright future she had once envisioned for Cameron would not come to be, Sarah found unexpected comfort when she learned that Cameron could be an organ donor. Her son was gone, but he would live on by giving life to others. As if to assure Sarah this was true, a rainbow filled the sky outside of Cameron's hospital room window as she said her goodbyes. Sarah felt a sense of peace that he would be helping many others in great need.
Life after donation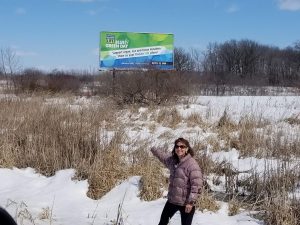 At the time of Cameron's donation, Sarah knew that as she cried tears of sadness, those awaiting lifesaving and healing transplants were crying tears of gratitude and joy. A registered donor herself, it took her son becoming a donor for Sarah to fully grasp what a gift organ, eye and tissue donation truly is. In addition to helping his recipients, donation helped Sarah to cope with her grief and to make sense of Cameron's untimely passing.
Today, Sarah, as a donor mom, has a newfound purpose in her own life. As a dedicated organ donation advocate, she is on a mission to share Cameron's story and spread the word, so that others will make the decision to register as organ donors too. Sarah's local efforts made a big impact in April 2018, when she arranged for 192 digital billboards across 33 markets to promote National Donate Life Blue & Green Day and the National Donate Life Registry. Sarah is doing all that she can to bring hope to those who are waiting — just like her son did.