This July marks the 5th Annual Donate Life Art Contest! Donate Life America hosts this contest as an opportunity for members of the community to share their connection to donation and transplantation through art. Each year, the creative submissions we receive and the Stories of Hope they represent inspire us.
Entering the Donate Life Art Contest is free and open to anyone! All artwork submitted must be completely original and created through paint, pencil, marker, ink, charcoal, pastels, collage or graphic design.

Congratulations to our 2023 Winner, Stephanie!
Our 2023 Donate Life Art Contest Winner, Stephanie Little of Bismarck, North Dakota, entitled her piece, The Power of Donation Is In Our Hands.
Her dynamic creation is a collage created from a combination of cut-outs, watercolors, and splatter paint.
"It symbolizes how the power of donation lies within us and within our orbit. We often lack a voice within the healthcare system. Organ donation, whether through our own or loved one's decision making, passes from hand to hand. We are in this together."
Stephanie also has an amazing connection with the Donate Life cause: 
"My sister-in-law, Alyssa, received a heart transplant when she was 5 years old. She experienced cancer as an adolescent and then again as an adult. She passed away from melanoma in 2014. Once she passed away, there was reflection as to what could be done to provide other opportunities like Alyssa had, leading to efforts in increasing donor registration (organ and bone marrow). Over the years I've participated in various boards, committees, and workgroups in the organ donation/transplantation realm. It has become my passion in life. I'm currently a social work professor and Ph.D./MPH graduate student focusing on inequities in organ transplant (concentrating on rural Indigenous tribes). Donate Life holds a special place in my heart due to its dedication to helping others, spreading awareness, supporting diversity, and committing itself to communities."
We're highlighting our previous winners and their stories to show the importance of the Donate Life cause and to encourage others to get creative and share their stories.
 Our previous winners show a variety of artistic styles, like New York resident Joanne Matibag's 2022 winning piece, "A Work of Heart."
Joanne's submission was created from ripped magazines and glued individually to create texture and a mosaic-like effect, with blue and green in the background to represent the Donate Life colors. She decided on a heart-centered piece because of her story as a heart transplant recipient.
Born with a congenital heart defect, Joanne had a lifesaving heart surgery early in life. This allowed her to live a normal life, going to college, becoming a nurse, getting married and starting a family. However, Joanne started to show symptoms of heart failure during the pandemic, and was listed for a heart transplant in 2021.
In March of 2022, Joanne received a heart transplant, giving her a second chance at life. When talking about the process of designing her artwork, Joanne said, "I thought about all the words that come to mind surrounding organ donation. No matter the organ, donation is truly a gift from the heart. I am so thankful not only to my donor & donor family, but also to all the staff who took care of me during my hospital stay. It truly takes a team to deliver such great comprehensive care."
Stories of Hope in Art
The winners from past years highlight different ways a life can be touched by donation and transplantation. Lauren Gydosh of Womelsdorf, PA shared her story as a living donor with her winning piece from 2021: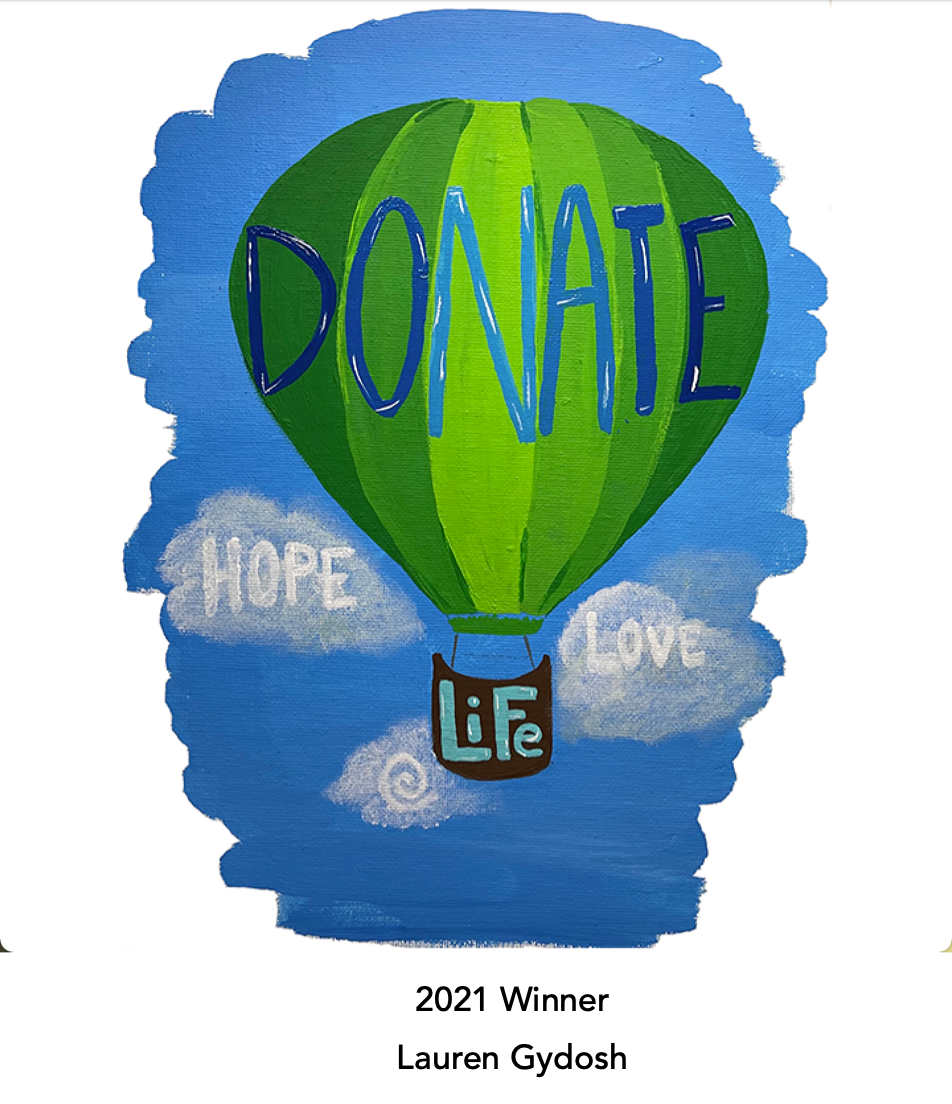 "For me, personally, becoming a living donor was such an uplifting experience in so many ways. It elevated my life as well as my recipient's life."
For others like Amanda Couch of Ohio, their artwork captures the hope of those waiting for a lifesaving transplant.
Amanda's son Rowan inspired her winning submission in 2020. She created her drawing while taking care of her son during end-stage renal disease (ESRD) and chronic lung disease, waiting for him to be big enough to receive a kidney transplant. 
"Since going through this experience with my son," Amanda wrote, "I've realized how important it is to be an organ donor. I'm so excited to share this artwork and hope to inspire others to consider donating so they can give others a second chance at life and spread love and hope."
Love and hope are two common threads between stories of donation and transplantation. The 2019 winner Brigette McKern of Tampa, FL found love and hope along with gratitude and joy in her artwork celebrating her double lung transplant.
"Reflecting on five years post double lung transplant," she wrote, "I wanted to use words that describe what an organ donor has given me."
Bridgette's artwork is a clear symbol of the Donate Life mission and message, and including the Donate Life logo shows the clear connection between her story and the cause.*
Inspire Others This Year
Help inspire others with your art and story this year! Find more details and guidelines on the Donate Life Art Contest page. The contest opens July 1, 2023. All entries must be submitted by July 31, 2023, at 11:59pm ET.
Your art can help inspire others to share the Donate Life message and support the cause. Thank you for sharing your creativity – we're looking forward to seeing your art and reading your stories this summer!
*Note: Including the Donate Life logo is not required for a Donate Life Art Contest submission; however, it is the only logo allowed in the Donate Life Art Contest. To get a copy of the Donate Life logo, email Branding (Branding@DonateLife.net) for the best image file to use.