In donation and transplantation, two major 40 milestones happened in 2021: the United States surpassed 40,000 transplants performed in one year, and Donate Life Feature Partner UPMC Transplant Services celebrated its 40th anniversary.
40,000 Transplants
According to the United Network for Organ Sharing, 41,354 lifesaving organ transplants were performed in the United States in 2021, an increase of 5.9% compared to 2020. This is the first time the U.S. has surpassed 40,000 transplants in a single year.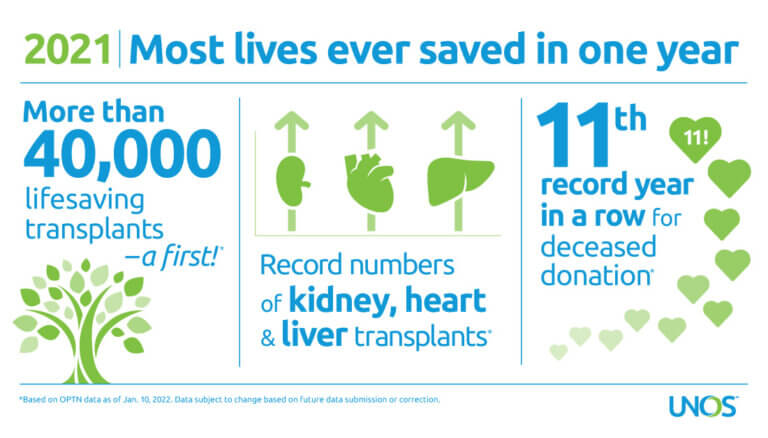 In 2021, there were 13,861 deceased organ donors, making this the 11th consecutive record year for generosity and deceased donation. A total of 6,541 living donor transplants were performed in 2021, an increase of 14.2% from 2020.
States across the country had record years of donation. One of those states was Pennsylvania, home to UPMC Transplant Services.
"The United States reaching 40,000 organ transplants in a single year is a testament to the lifesaving work performed by transplant centers across the US," said Abhinav Humar, MD, Chief, Transplantation Surgery and Clinical Director, Thomas E. Starzl Transplantation Institute at UPMC. "It is also a testament to the generosity of the inspiring donors and courageous families who gave the gift of life. UPMC is proud to contribute to this incredible milestone."
40 Years of Leadership & Innovation
UPMC is one of the leading organ transplant centers in the world, and home to one of the oldest and largest transplant programs in the country. The UPMC clinical team has performed more than 20,000 organ transplants, including liver, kidney, pancreas, single and double lung, heart, and intestinal.
Experts at UPMC have a distinguished history of pioneering and refining new transplant procedures, making it possible to provide a second chance at life for patients who otherwise would not have been candidates for transplantation.
This commitment to lifesaving innovation is clear in UPMC's living-donor liver transplant program, where living donor transplant is offered as a frontline treatment rather than a last resort. As a result, more than half of UPMC's liver transplants are thanks to living donors. With living donation, recipients receive a transplant sooner and tend to have better outcomes and faster recovery times. This is in part because the donor's healthy liver is functioning until the time of transplant.
Did you know? Living-liver donation is possible because the liver consists of two lobes, one of which can be donated to someone in need. The remaining liver will regenerate to normal size and function generally within 6-12 weeks.
There are currently more than 350 patients under the age of 18 waiting for a lifesaving liver transplant, and UPMC's pediatric liver transplant program has performed more living-donor liver transplants than any other center. In fact, UPMC Children's Hospital of Pittsburgh established the nation's first pediatric transplant center in 1981. They have performed more transplants than any other center while discovering new treatment methods to improve long-term survival and quality of life for pediatric transplant recipients.
UPMC also innovates in how they help patients find a living donor. Patients and their loved ones can join the UPMC Living Donor Champion program, which provides support and resources to aid in the search for a living donor. Asking someone to become a living donor can feel overwhelming. With the help of a living donor Champion, finding a donor becomes more manageable. A Champion may be a friend, family member, co-worker, or anyone else who is willing to provide emotional support for someone on the transplant waiting list. They can help by taking the lead in finding a compatible living donor.
UPMC and Donate Life America have a shared mission to educate about living donation to help end waiting list deaths. We have partnered together to launch the UPMC-Donate Life: Living Donor Transplant Facebook page, which aims to educate the public about living donation as an option for patients in need of a liver or kidney transplant.
The UPMC-Donate Life: Living Donor Transplant Facebook page also serves as a place where people can share their stories and connect with others who have had a transplant, are waiting for a transplant, or are a living donor. By providing education and sharing stories from living donors and recipients of living donor transplants, we hope to inspire patients and their families who are waiting for a transplant, as well as encourage individuals to consider living donation.
40 Next: The Work Continues
While there is still work to be done to help the 100,000 people on the waiting list, UPMC is proud that their leadership has contributed to the continued growth and success of transplant in the United States. With goals to reduce waiting list deaths and improve quality of life post-transplant, UPMC continues to educate patients and the medical community about the benefits of living donor transplantation and pioneer antirejection therapy research.
UPMC was one of the first centers to use the breakthrough drugs that keep patients' immune systems from rejecting their new organs, and they have a long history of developing new antirejection therapies that work better with fewer side effects so organ recipients can enjoy better health with fewer restrictions.
Researchers and clinicians at UPMC continue to collaborate with the UPMC Immune Transplant and Therapy Center to conduct research aimed at reducing or potentially eliminating the need for antirejection medications altogether. Experts are exploring the possibility of using the living donor's cells to control the recipient's immune response in hopes that the recipient's body will recognize the donor liver as its own.
Congratulations to UPMC on 40 years of leadership in saving lives. We are looking forward to seeing what innovation comes next, and to working together to celebrate more milestones in the future (…we hear 50 is the new 40).
UPMC is a partner of Donate Life America. To learn more about UPMC Transplant Services, visit: https://www.upmc.com/services/transplant/about. To learn more about partnering with Donate Life America, visit DonateLife.net
Sources:
UPMC, https://www.upmc.com/
Donate Life America, DonateLife.net as of March 2022.
Based on Organ Procurement and Transplantation Network (OPTN) data as of January 10, 2022; March 2022