Donate Life America is a 501(c)3 nonprofit organization leading its national partners and Donate Life State Teams to increase the number of donated organs, eyes and tissues available to save and heal lives 
through transplantation while developing a culture where donation is embraced as a fundamental human responsibility. 
DLA owns, manages and promotes Donate Life℠, the national logo and brand for the cause of donation; motivates the public to register as organ, eye and tissue donors; provides education about living donation; manages the National Donate Life Registry at 

RegisterMe.org

; and develops and executes effective multi-media campaigns to promote donation. 
We were founded as the Coalition on Donation in 1992 by the donation and transplantation community.
Donate Life America changed its name in 2006 in response to extensive research and the desire to align the organization with the Donate Life brand.
Over the past 30 years, Donate Life America and the Donate Life Community have registered 170 Million organ, eye and tissue donors in the United States.
Make a Splash for Donate Life Month
This National Donate Life Month, we ask you to be a part of this interconnected life-sustaining community by registering as an organ, eye and tissue donor; becoming educated about living donation; and championing the Donate Life cause.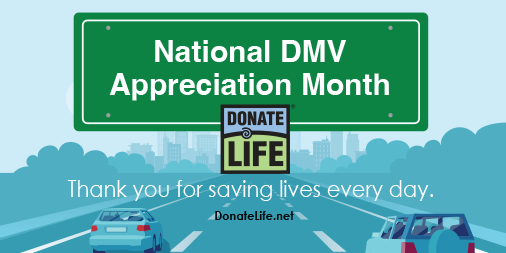 National DMV Appreciation Month was created by Donate Life America to thank DMVs and recognize them for their commitment to the Donate Life mission.